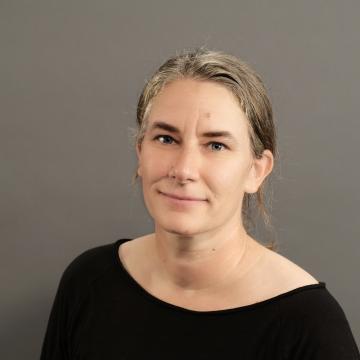 Department of Classics
Tch. Asst. Dr. Špela Tomažinčič
Špela Tomažinčič je leta 2002 diplomirala na Oddelku za arheologijo Filozofske fakultete v Ljubljani. Leta 2004 je zaključila vzporedni študij latinskega jezika in književnosti na Oddelku za klasično filologijo. Doktorirala je leta 2016 pod mentorstvom prof. dr. Marka Marinčiča s tezo Memorem Iunonis ob iram: Motiv Junonine jeze v rimski epiki. Od leta 2016 poučuje latinski jezik na Oddelku za zgodovino. Pred zaposlitvijo na Filozofski fakulteti je najprej poučevala na Gimnaziji Želimlje in Srednji zdravstveni šoli Juge Polak v Mariboru. Kasneje je vrsto let vodila številne terenske in poterenske arheološke raziskave ter pripravljala končna strokovna poročila in predhodne objave arheoloških raziskav.
Ukvarja se predvsem z rimsko epiko in antično mitologijo. Njeno raziskovalno delo sega tudi na področje arheologije, predvsem jo zanimata antropološki in družbeni pogled na kulturno dediščino.
Tomažinčič, Špela. »Belt types, identity and social status in late antiquity: the belt set in Emona's grave 18.« Journal of Roman Archeology 31 (2018): 426-444.
Tomažinčič, Špela. 2014. "O mestu in rimski identiteti: Quomodo imponere Romanos mores?" V Emona: mesto v imperiju, ur. Mojca Ferle, 97–112. Ljubljana: Mestni muzej, Muzej in galerije mesta Ljubljana.
Tomažinčič, Špela. 2013. "Cerkev sv. Martina 'na hribcu'." Delo 55, št. 152 (4. jul. 2013): 14.
Tomažinčič, Špela. 2009. "Arhetipske podobe vzhodnjaštva: moralično ogledalo Enejeve nove identitete." Keria: Studia Latina et Graeca 11, št. 2 (2009): 43–68.
Tomažinčič, Špela. 2008. "Remo cum fratre Quirinus: preobrazbe mita o ustanovitvi Rima od začetkov do Horacija." Keria: Studia Latina et Graeca 10, št. 1 (2008): 7–31.
Compulsory Courses
Elective Courses